I still remember as I was a little kid, mostly my nose running like water storm 😀  These are the very bad days, then I contact my doctor and strongly follow the instructions from him, I also want to share this guide with you people.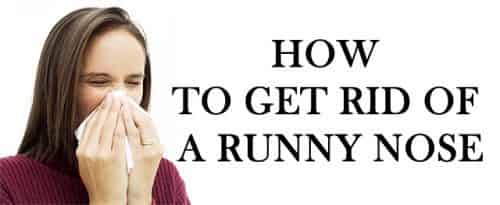 Usually, people face this kind of issue due to some specific reasons, the main reason is due to cold, you getting flu and sneezing with a runny nose could not stoppable, due to allergy and some other sensitive reasons.
Learn through the article, Find complete solutions about how to get rid of a runny nose. Find a complete guide about 10 Ways to Get Rid Of Runny Nose. A runny nose is also sometimes because of fever, symptoms are include itching of the nose, congestion continuous sneezing, and other infections.
Weather conditions affect a lot to the flu or cough type illness, some people facing indoor allergy and some people having an outdoor allergy. In both conditions chances for getting bad flue are very high. Due to bad health in flue matters, people also getting headache and throat. For securing yourself from this desis just read the complete article guide below we mentioned 10 ways to get rid of a runny nose.
10. Salt Water
Salt Water is one of the best cures, and suitable for your health when you experiencing a runny nose problem. I highly recommend this cure, make your daily routine to take salt mixed water whenever you need to drink water. Saltwater falloff the bodily fluid.
For practical exercise take a glass of water batter if you take warm water, after taking one glass of water add half a tablespoon of salt into that warm water and nicely mix it. Try to keep yourself hydrated by drinking regularly warm salt mixed water, to make your throat clear and make it possible to breathe freshly. Everyday strongly breathes into permit the composition to go further down your nasal conditions. Regularly clean out your nose to get rid of the infection. You can use this twice every day until you see a change in your health condition.
9. Steam
Another best way to avoid this problem is steam. This may help your body conditions to fight better against flue problems and make your body strong. I just wanna say that this is the most amazing way to breathe strongly and clearly if you getting runny issues or even you not facing this problem it's better to make your routine well by taking steam more than 2 or 3 times a week for better results.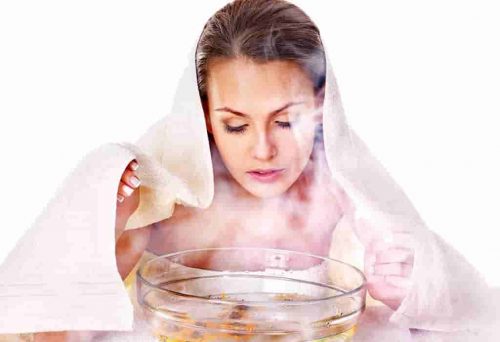 One of the most used homes made remedies is steam inhalation. For taking steam you must need some material we listed below.
A bowel
Water
Kettle or Pot
Stove or Microwave
Towel
If really you want to stop runny nose or nasal take steam inhalation at home you have to follow this guideline, just take some water and put it on the stove or microwave for making it warm. Add some salt for batter results our recommendations, in the water, gives at least 5 minutes to make it properly warm. Mixed salt in the water. Take water bowel, set on the floor, Closed your eyes and try to take slowly breath through the nose, inhalation for 10-15 minutes slowly. Inhale deeply and slowly for at least 5 to 6 minutes.
You must have to follow the instructions for steam because if you take the procedure wrong you will receive side effects. Don't take steam for more than 10-15 minutes. Steam provides permanent relief from different cold symptoms. If you doing nicely steam inhalation no other remedy is opposite to it, but if you take it wrong there are also some side effects of steam inhalation. During steaming mostly people get a burn on various sensitive areas of the body, most commonly children are found effective.
8. Ginger
Many medical researchers also approved that ginger is the most rapid natural remedy. Ginger is the best homemade remedy for a runny nose and has an old history in form of mediation. Ginger may help in different flue problems, sore throat and bad runny infections. Many medical researchers also approved that ginger is beneficial in different health issues like headache, flu, sore throat, and other infection issues.
Bite Ginger
You can use ginger in different ways, one of the best ways to get relief from flue is to cut ginger into small pieces and add some salt to it. Bite a ginger couple of times a day.
Ginger Tea
When people have a cough and cold they used ginger tea as it is a very old herbal remedy that is still beneficial now these days. You can cut ginger into small slims and then add to the water, turn on the stove and make water boil until a bubble comes up on the water, drink this ginger tea 3 to 4 times a day. People also take ginger in other ways as a herbal remedy.
7. Garlic
Garlic is the most commonly used homemade cure for the old days and still working in the present times. You can use garlic soup for fast recovery from runny nose, also you can bite 2 to 3 times in a day for cold or flu. Garlic may be used in many other ways such as you can powdered garlic, garlic supplement, garlic aged extract, garlic oil to get rid of a runny nose.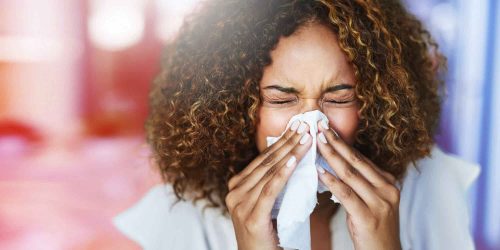 6. Eucalyptus Oil
Usually, in the winter we face chest and breathing problems and also difficulty covering the waterfall of our nose. Eucalyptus Oil is one of the most amazing and fast result remedies, Take some drops of eucalyptus oil on your clothes and smell it. If you need fast relief, we recommend you add some drops of eucalyptus oil into the water and take steam twice a day.  Eucalyptus oil may help in many symptoms some are listed below.
A Runny Nose
Headaches
Nasal Obstruction
5. Cayenne Pepper
Cayenne pepper is a herbal homemade remedy, people from all over the world used it, no matter from the west or east people knows well the importance of this fast-cure natural herb. Cayenne pepper clears up the nasal blockage and cures a badly runny nose. It expands nasal release and subsequently can flush out the toxins and blockage that has brought about a runny nose. When you are experiencing a runny nose include quite a bit of cayenne pepper as you can in your dishes.
4. Nectar
Nectar is also an awesome answer for those people who searching for strategies on the most proficient method to get rid of a runny nose. Nectar has awesome antiviral and antibacterial properties and can decrease the symptoms connected with a runny nose. You need those things for use.
A Glass of Water
Nectar
Lemon Juice
Cinnamon Powder
Take a glass and include two tablespoons of nectar, half-tablespoon lemon juice, and a squeeze of cinnamon powder to it. Take this blend two times each day. In a glass of tepid water, include two tablespoons of nectar. Blend and drink it twice per day.
Take one glass of warm water and include one-tablespoon nectar, and include three or four lemon drops in juice. Drink it now before it's warm, 2 times a day. This method perfectly works and get relief from the runny nose.
3. Basil (Tulsi)
You can manage a cold or runny nose at home with this natural remedy. Basil has parasitic, antiviral, antibacterial, and solid mending properties, which will warm your body from inside, and cure your runny nose. Bite 3 – 4 basil leaves before you eat every morning, furthermore before going to bed each night.
Simply eat 2 or three leaves of basil with a small amount of jaggery, two times a day. Now take some water and include ten leaves of basils into it, & five cloves. Bubble it for around 10 minutes. Include a little sugar and let the arrangement cool down. Drink this amazing blend twice per day. You can also boil Basil leaves in water and take them as tea. How to make basil leaves tea, follow the below method.
Take 7,8 Basil or Tulsi leaves.
Wash Basil leaves well.
Now Boil the water well in a pan or kettle.
Add Grated Ginger 1 teaspoon.
Add 6 to 7 peppercorns.
Now boil the all mixture for at least 8 minutes.
Add black salt
Mix lemon
Now your basil boil water or tea is ready to take, make your daily routine about take 2,3 times in a day this amazing basil leaves or tulsi leaves tea for batter health.
2. Mustard Oil
Mustard oil is one of the most popular oil, especially in Asian countries. The most commonly used oil in the world is mustard oil, which people used for various matters like cooking, applying in hair, massage purpose, and also other ways. Mustard oil also helps in different ways to get rid of a runny nose like, putting 2 or 3 drops in your nose and getting relief from sneezing, cold or flu.
\You can also use it in another way like boiling 1 spoon of mustard oil and mixing it in warm water and taking steam. By taking mustard oil mixed water inhaling steam nicely for at least 4 to 5 minutes gives natural and clear breath. If you facing flu or cold problems highly recommended by us that take a mustard oil massage on your neck and keep your health well, make it your daily routine to gain long-lasting results.
1. Turmeric
Turmeric is the perfect natural remedy for various problems. Turmeric is mostly famous for being used to cure wounds and also to get rid of cold.
The best thing is that you can get on every little grocery shop in your area. Usage of turmeric is also reducing inflammation in the human body. People use milk with turmeric for getting a cure for cold or runny nose. Follow the below steps to take this method at home.
Take a warm glass of milk and make it boil and mix half spoon of turmeric powder in it. Now drink it before sleep and it may give your body a warm and strong temperature and get proper relief from the runny nose.  I hope this helpful cure helps you, you can also read this: Top 6 Golden Health Tips For Women