Many Broadband companies provide internet services in Pakistan. But it is the fact that whenever we have many options for anything, its quite difficult to choose the right thing for us, the same matter involved here in the terms of the net services, we also have to be very careful especially when we were living in Pakistan for the selection of best Internet provider.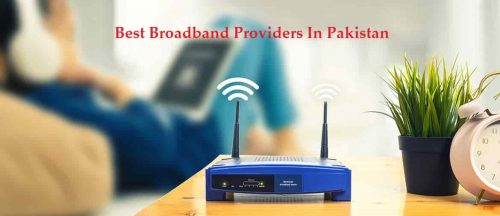 Everyone wants good speed, high quality, and strong connectivity net service. So don't be worried, we know that choosing the best net service while staying in Pakistan is not an easy task, we explain the details of all broadband providers in Pakistan here, so you can choose best for you after reading the whole article.
What is Broadband?
Before we talk about Broadband must you must know What is Broadband? A broadband net connection allows you to connect many other connections through devices or cable at home, actually, broadband service is used cable net to your home, and later you can make it wifi at your home.
In the field of telecommunication, broadband is a great range bandwidth, which used various kinds of signals and traffic types through best-communicated mediums like Radio, Coaxial cables, and optical fibers. Broadband use high-speed internet technology which is always higher than "Dial-up" net access or analog. People who were using the net from old times in Pakistan would perfectly know the systems and authentications of broadband well.
Types Of Broadband
As compared to the traditional dial-up connection, Broadband is much better and provides some of the high-speed categories of net system. There are various kinds of Broadband providers in Pakistan. Broadband offers services in at least all Cities Of Pakistan. have a look at the top Broadband providers of Pakistan below.
DSL (Digital Subsriber Line)
Cable
Satellite
Wireless
Best Broadband Providers In Pakistan?
If you were also a citizen of Pakistan, then you must have to aware of each type of broadband provider within the boundaries of Pakistan, and you also have to get knowledge about these broadband internet packages and their prices before choosing any of them.
In Pakistan many top Broadbands telecommunication authorities national and internal level corporations were performing their operations and dealing with 4G and 5G services, it depends upon you what network you would choose for yourself, which truly meets your needs and fulfills your budget. Here we try to discuss at least every top broadband company in Pakistan. Read now!
PTCL
Qubee
Wi-Tribe
Optix
WorldCall
SatComm
Multinet
Wateen Telecom
Nayatel
PTCL
PTCL stands for "Pakistan Telecommunications Compay Limited, " the Pakistani Nation company for years ago. PTCL generates total revenue of about 3.4 billion dollars, due to PTCL revenue generation it was the 56th largest company in the world how providing telephone operations, and in Pakistan, PTCL is also the top-ranked ICT company of Pakistan, where ICT means Information Communication Technology.
PTCL is considering the first and main source of connection, which connected Karachi to Khyber by fiber optical cables, Pakistan Telecommunications Company Limited also be the source of connections between Pakistan and the whole globe by submarine cables connections. PTCL Groups is the top telecom industry in the country, which makes life easy for people who want to call, massage even video calls to their loved ones who were living in the other part of the world rather than Pakistan.
Also Read: PTCL Broadband (DSL) Internet Packages
In the year 2007 PTCL be a partner with "Etisalat" which stands for Emirates Telecommunication Corporation through that it became a private company within the boundaries of Pakistan. The sold amount was 2.6 billion dollars that time and Etisalat holds 26 percent of shares in the total shares.
PTCL Internet Packages
PTCL is one of the best companies providing high-speed net service and unlimited downloads of data through different best packages to its regular customers. We mention some of the most famous and demanding packages here.
Qubee
Qubee is another stable and well-known internet provider company doing its best in Pakistan. The company takes the first step in the field of telecom in 2007. Qubee is proudly working in the biggest cities of Pakistan, these cities include.
Karachi
Lahore
Islamabad
Rawalpindi
Qubee uses WiMAX's latest technology for providing its data services, the best thing about Qubee is that it's WiMAX technology does not require any kind of phone lines and this is the complete wireless network with affordable and reliable net packages.
Qubee provides high-speed packages in the field of telecom to its users starting from 1 MB to 3 MB, Also offers limited and unlimited bundles. Some of the best Qubee Internet Packages are listed below.
The company offers postpaid and prepaid offers and also starts its operations across Pakistan for enhancing its international network growth, currently, Qubee is just working in Bangladesh as an international service.
Qubee Internet Packages
Qubee has some of the most amazing bundles for its customers in Pakistan. If you want to practice Qubee internet services, just look at their affordable 3G, 4G packages.  [wptb id=782]
[wptb id=784]
Also Read: Qubee Internet Packages
Wi-Tribe
This telecom company establish its pillars in Pakistan in the year 2007 and approach the top-level companies standard in a very short period of time. Wi-Tribe is a Qatar-based International internet-providing company, that obtains the services of four major cities of Pakistan, mentioned downside.
Islamabad
Rawalpindi
Lahore
Karachi
Qatar telecom has the vision to update the quality of the net at that time and they lunched the WiMAX technology that time which was the best source of eye-catching customers towards their new network, and they got succeed in terms to achieve a got number of clients in the top cities of Pakistan. Within a short time, Wi-Tribe got good places in the Best Broadband Providers In Pakistan networks list.
Wi-Tribe Internet Packages
For batters peed and meet the expectations of the clients, Wi-Tribe networks introduced first time 4.5 G LTE Advanced technology in the year 2016. The high-speed 4G limited and unlimited Wi-Tribe internet packages list is shown in the below table along with their prices and duration.
[wptb id=788]
Optix
Optix is the fastest growing broadband network providing company based in Pakistan, currently, Optix just yielding services in the two main cities Karachi, and Lahore, it is aspected that soon they were going to establish more branches in other cities. Day by day Otix tries to justify the better quality services.
Optix Internet Packages
Optix pays close attention to promoting the lowest prices bundles with high speed and strong connectivity, they provide the best home network where you can enjoy streaming, gaming, video calls, and other services on any device like laptop, tablet, mobile, etc.
Optix is a well-known company that aims to provide (FTTH) "Fast Fiber to The Home". Just have a look below at the fast and strong connectivity-based Optix Internet Packages. [wptb id=792]
If you looking for a big boost in your net speed with long stability in connectivity, then Optix also provides some advanced bundles, prices of these advanced Optix internet packages are high, just have a look.
World-Call
World-Call has founded in 1996 as a Pakistani Based telecom company. World-Call was purchased by Omantel in 2008. The world-Call head office was based in the popular city Lahore.
World-Call Internet Packages
Wolrd-Call broadband offers various net packages. Check through table World-Call Internet Packages.
Satcomm
Satcomm is a metro ethernet network, with the motto of "Get Connected Stay Connected". Satcomm provides high bandwidth with fiber optic cable net services in the two megacities Lahore and Karachi. Satcomm Nicely nicely covered the commercial and residential areas of both cities.
Satcomm Internet Packages
Satcomm is also one of the leading broadband network provider companies. Here you can explore various Satcomm Internet Packages with their prices and variations, usually, these bundles are best for small offices working in Karachi or Lahore. Have a look.
Multinet
Multinet is a national-level-based Internet service provider company, currently offering services in three big cities of the country, Islamabad, Lahore, and Karachi. Multinet is well known because of its best customer service, the company always care well about its clients. Multinet presents high-speed net services, however, Multinet still does not offer net packages for residential area users.
Wateen Telcom
With the corporation of Abu Dhabi groups of United Arab Emirates, Wateen Telcom starts its operations in Pakistan in 2007. If we say that Wateen telecom gives a great push to the telecommunication industry of Pakistan, it's not wrong to say this. Wateen plays a vital role to gives awareness among the people about the internet and telecom, and opens a lot of opportunities for its users to use different features like video calls, multimedia, net, voice, and more. Wateen cables network provides very fast and affordable internet service in Lahore and Multan and the number of clients across the figure of 125, 000.
Nayatel
Nayatel is the new name in the telecom industry of Pakistan, with the mission to give the best and high-speed 4G net services among Pakistani's. Currently as newly set up, Nayatel is using the best quality services and operating services in the four big cities of Pakistan mentioned below.
Islamabad
Rawalpindi
Faisalabad
Peshawar
NayaTel Internet Packages
If you were a resident of these four megacities of Pakistan, and you need services provided by Nayatel around these cities, you can get the latest Nayatel Internet Packages below.[wptb id=804]
The best thing about Nayatel is that they were not compromised on the quality and stability of the network so that their all Internet packages are highly reliable and affordable. [wptb id=806]
Read: NayaTel Internet Packages
Other Broadband Networks In Pakistan
Comsats Internet Service
LinkDotNet
StormFiber
Fiberlink
CMPak Limited
Connect Communications Pvt Ltd
Cyber Internet Services (Pvt) Ltd
KK Networks Private Limited