Qubee is the top reliable Telecom company caring number of customers inside the boundaries of Pakistan. Qubee provides broadband for all with fast speed, affordable prices, and strong connectivity, also the company offers the best volume and speed for all its users. Same as PTCL broadband they also offer a large range of packages for its clients.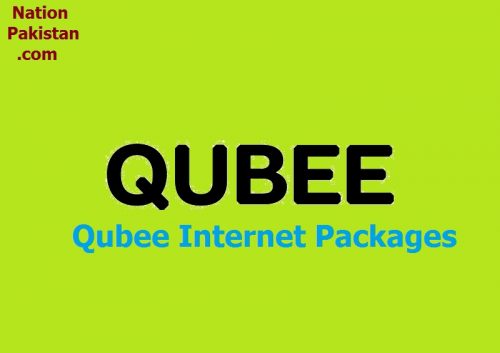 The network also gives the best services as some of the other famous networks do, they allow internet service without telephone lines to its customers. Internet is the need of the hour and at least every single person aware to an internet connection, it became the basic need of a common person, in short words "there is no concept of life without internet now these".
One more thing is that not only Internet service people need but people are also very caring about the reliable and best speed of the Internet. In that case, people always trying to select one of the best and affordable networks for them. Currently, Qubee 3G & LTE network is just offering its services Wimax services just in the biggest cities of Pakistan like Islamabad, Rawalpindi, Karachi, and Lahore.
In the world of Broadband connections, this network also makes its own places, it is not an easy task to be prominent in the field of broadband providers in Pakistan, because there are many top companies serving the country with amazing connectivity and internet speed. But even within the big competition in the field, Qubee keeps in the list all the things that relate to quality and branding, the company never make disappoints its users. Whenever we talk about the best broadband services in Pakistan, it's not possible that we did not take into list the Qubee network.
Qubee & Witribe
It is clear that Qubee also merges its services with a famous network named Wi-Tribe. So if we say that both networks are now known as one strong network, it's not wrong to say like it.
Is Qubee Available in All Cities Of Pakistan?
No! Currently, Qubee networks services are not available in all cities in Pakistan, Infect the company is offering its reliable services among some of the major cities of Pakistan. At present, their coverage area with high-speed limited and unlimited internet just in the below cities.
Karachi
Lahore
Islamabad
Rawalpindi
Free Wi-Fi Router
The company offers free wi-fi router for all its "explore max" package holders, explore max available in RS.500, in condition when users purchase Qubee's unlimited package, at the time of security deposit. The activation charge for the offer is RS. 1000. This free wi-fi router offer is not available for "Shuttle package" holders.
Free USB Shuttle
USB Shuttle users who pay their line rent in advance for the two months with the submission of their security deposit. The offer is just limited to the USB Shuttle users with a 2 Mbps unlimited package.
Free Device
Get a free device when any user pays 3-month line rent in advance when he pays the security deposit. The offer is limited to only unlimited package holders.
Qubee Internet Packages
The company offers a lot of amazing and affordable 2G, 3G, 4G internet packages for its trusted clients and customers in the top cities of Pakistan. There are various connections according to your need and location if you belong to certain cities where the network offered services. If you need Qubee's internet services just simply call their helplines for free and place your internet order, after the placement of your order, within a short time the team member of the company just visits your specific area or place for installation of connection.
The best thing is that their service is very quick once you call for placement, within a very fast time you get a lineman on your doorsteps. The company offers you a Wifi router free for using the service of them. After installation of the Wi-Fi router of the company, you would able to get benefits from the services of the Qubee. The companies head office was situated in the big city of Pakistan Karachi. If you were a resident of Karachi then it's very easy to just visit the head office of the company, just feel free and go to place an order, inquire about internet packages or submit any complaint, the well-mannered staff of the company always welcomes you. Qubee YouTube Unlimited Packages with this bundle you can use Youtube streaming at high speed at very cheap rates, the company offers this pack to you by just paying of RS. 1299 line rent and you will receive 2 Mbps of speed. If we talk about limited Internet Packages then this category is further categorized into two subcategories, Qubee conquers 30 Packages is available in very cheap line rent but limited data for usage within 2 Mbps of speed, and the line rent is just 999 Pakistani Rupees.
Also Read: Nayatel Internet Packages
The Qubee Conquer 60 Packages also allow you to use the limited data access of the network with a perfect speed of 2 Mbps and line rent is a little higher than the previous that is RS. 1199. [wptb id="957" not found ]
Qubee Unlimited Package offers unlimited bundles with free Wi-Fi router for high connectivity and reliable speed, furthermore, in unlimited bundles, the company offers three types of offers. The Qubee's Conquer Max offers 2 Mbps speed with unlimited internet data for usage and a slightly low line rent of just RS. 1399. Qubee Invades Max Package The best bundle for your friends and all family members with unlimited data usage and 3 Mbps speed, company charges for this package is just RS. 1499 as line rent. Qubee Supreme Max, as it is very clear from the name of the package that this package is consuming maximum internet speed and strong connectivity power. The package consists of 4 Mbps speed and the charge for this bundle is just 1999. Qubee Top Shop Bundles is one of the very unique and special bundles, sometimes it happened that your data limit is exceeding and the network provider company must be blocked your internet access. So for the risk of blocking and continuous connectivity, the company offers the very best service in various parts like 4 Gb Top Shop Package, 10, 20, and 40 GB Top Shop package with respective line rents, RS. 100, RS. 200, RS. 300 and RS. 500. [wptb id="962" not found ]
how to Subscribe?
You should subscribe to any of the Qubee's packages in the following ways.
Direct Call helpline on 021-11-10-78233
Subscribe Through visiting the Official Website Of Qubee
Visit any of the nearest Customer Care Center.
Terms and Conditions
At the time of sign up, you have to pay a security amount that is totally nonrefundable, the security is equal to your one-month line rent.
For the requirements of PTA orders, all internet connections must be verified through biometric.
Deduction of RS. 100 exclusive of tax charged with the monthly line rent.
The package conquer 30 includes all taxes.
On all types of Packages, the Fair Usage Policy (FUP) will be applied.