Today we were going to talk about the Complete Guide about PTCL Broadband (DSL) Internet Packages. At the start, PTCL is a national level company within the boundaries of Pakistan, working under the rules and regulations of PTA (Pakistan Telecommunication Company Limited).
Before we direct talk about PTCL Broadband (DSL) Internet Packages, I want to discuss more, Currently, the company working with UAE telecom company Etisalat, PTCL holding 62 per cent of shares now and 26 % held by Etisalat moreover the remaining 12 % of shares owns by the general public. PTCL is the top ISP (Internet Service Provider) in Pakistan, as there is a heavy computation between top leading network providers in the country, everyone tries to lunches the best quality services and affordable services to attract more customers and clients, in this regards PTCL never lose its exact place in high broadband internet providers, and holding the most numbers of users than any network in Pakistan.
According to the revenue generated figures, Pakistan Telecommunication Company Limited is considered the 57th largest Internet Service Provider in the world, the net worth of its revenue earning is 3.4 Billion Dollars. No doubt that there are many other ISP companies that exist in Pakistan, but PTCL is still prominent and known as the largest broadband and telephone provider network in Pakistan. As the largest fixed-line corporation, the company created more than 2000 telephone exchanges across the country. The company is spreading its telephone and internet services in more than 2000 cities in Pakistan.
How to Get a New PTCL (DSL) Connection?
If you want to get benefits from the best and affordable services of PTCL connection like you to want to get the installation of DSL or PTCL connection, then you have three reliable ways to subscribe to PTCL (DSL) Services.
By Direct Call 1218
By Visiting the Official Website of PTCL
Visit PTCL One Stop Shop (OSS)
If you want a PTCL connection at your home, you can choose these ways to order a connection, just dial PTCL help-line 1218 and place your order, if you have an internet facility then just simply open PTCL official website and mail your order there, or you have another way to order, is direct visit any of nearest OSS get to place your order with details.
For the confirmation of the order, you need to pay the installation charges first. Once you place an order by using any one of the methods from them, and by paying the amount of order. When the company received the confirmation of the charges, then the process of installation is started. First of all, the company informed you about confirmation and start the process by email or SMS.
PTCL (DSL) Internet Connection Features
The range of INTERNET SPEED IS 10 Mbps to 100 Mbps
Bandwidth is Unlimited
GPON fibre optic connectivity
DSL
VDSL
Advantages
PTCL Pakistan's largest broadband provider offers its services across more than 2000 cities and villages of Pakistan.
Affordable rates for high-speed internet data.
No buffering while movies, songs, and other types of music files downloading and streaming.
Access to HD multimedia stuff on the Internet.
For all broadband customers, many services have free access like Musci, Movies, Pakistani traditional plays, best cricket matches, and many educational portals.
Wi-Fi Modems for all clients
PTCL Smart TV app free for all customers
Unlimited On-Net Calls
Installation of PTCL (DSL) Router
After you receive the confirmation email or SMS and installation team or Lineman of PTCL is just visiting your doorstep. Lineman brings cable and the router box. Below we mentioned a photo of the PTCL router box.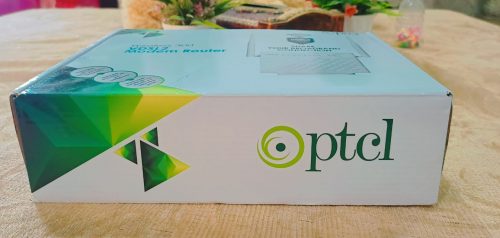 After the Un-Boxing of the PTCL DSL router box, you should see some of the important accessories in the box along with the router. After unboxing the box looks like we place the photo below.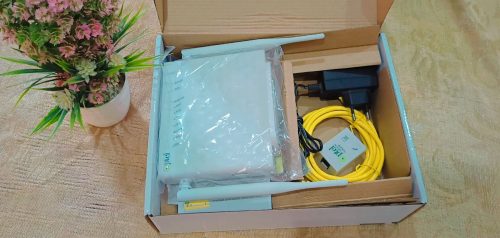 If you do not see the PTCL router before then have a look at the image listed below, time to time company changes the design of the router, the below image, is showing the current design of the router.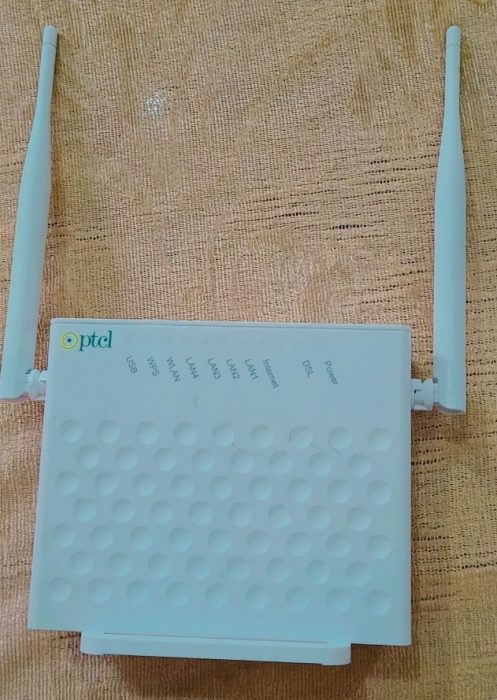 After takeout the router from the box, the next step is to put the charger and cable connected to the router specific place. which is also clearly shown in the picture below.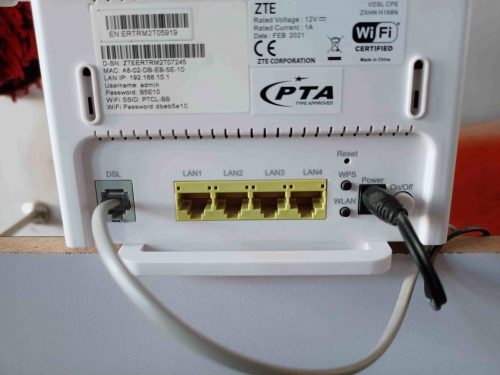 Now after putting the charger wire and the networking cable direct to the router. It's time to check your router lights showing ON in green colours, Like showing the photo downside.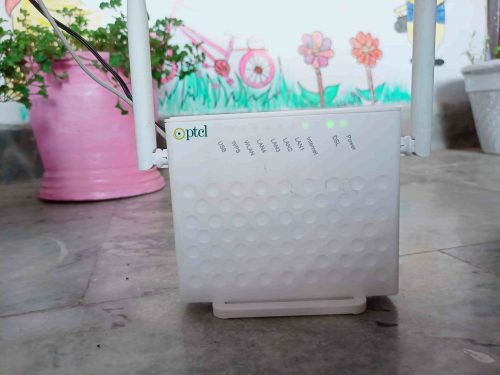 Installation Charges
Without Landline
In condition, if you do not want a telephone or landline, and just want to place DSL internet service at your home, for a new internet connection, the installation charges are RS. 2499 inclusive tax.
With Landline
If you need DSL service with a landline which is called Double Play Offer or Triple Play Offer, in double play they provide "Telephone plus Internet" and in triple-play, they give "Telephone +Internet + Smart-Tv" in that case charges are RS. 5000 including tax.
Packing List of VDSL 2 Modem
Wireless VDSL/ADSL2 plus Modem Router
Quick Install Guide
Splitter
Power Adapter
Ethernet Cable
Phone Cables
Trouble Shooting Guide
Introductory Charges
The Introductory Charges Are Listed Below.
RS. 5000 for the installation of the new connection.
Copper to GPON Rupees 3500
GPON Installation Charges
Installation charges for GPON need to understand which are mentioned in detail below.
RS. 15000 installation charges from new Fiber to GPON Home.
Call Help Line for details because GPON services are available in specific cities.
These DSL and VDSL packages are also available in some other specific Revamped exchanges.
Conversation charges for GPON RS. 7500
PTCL Broadband (DSL) Internet Packages
Just have a look at all unlimited PTCL Broadband (DSL) internet packages below.[wptb id=844]
Basic Troubleshooting Steps
In case you experience some problems with your Broadband service, please follow the instructions below to address the issue before registering a complaint.
First, check whether the tone is available in the phone line or not. If not then please escalate the phone complaint and Helpline 1218, instead of a DSL broadband complaint.
Please confirm whether the modem is powered ON or otherwise.
If the modem is powered ON, please check whether the DSL light at the modem is stable or blinking or dead/off and try the following.
If the DSL light at the modem is totally dead/off, please confirm that the telephone wire from the splitter is properly jacked in the modem. If not jacked, then it needs to be properly jacked in modem and splitter on both ends.
If the DSL light at the modem is continuously blinking then please check whether the modem cable is properly inserted in the right port marked as the modem.
If the DSL light is stable but you are unable to browse the internet then please check whether the LAN (Ethernet) cable is properly jacked in the modem and LAN/NIC/Ethernet card of the computer.
If the internet light is ON and the respective LAN interface at the modem is also ON but you are unable to browse the internet, then please check "Local Area Network Properties" on your computer, and the following options should be checked or selected.
Obtain an Ip Address Automatically.
Obtain DNS Server Address Automatically.
Related Articles:
If all above is well and you are still unable to connect to the internet, please feel free to contact PTCL Helpline 1218 and let them serve you.
PTCL Special Offers
4 Mbps Triple Play Bundle
Broadband Static IP
4 Mbps Triple Play Bundle
One of the best packages is 4 MBps allows you to fast 4 Mbps speed connectivity. 4 Mbps Triple Play Bundle is offering PTCL Smart tv Just in RS. 2250. This unlimited fast speed bundle also gives you 100 Ufone minutes and unlimited landline minutes.
Broadband Static IP
This offer allows you to use static IP just in RS. 300 every month. Activation charges for broadband static IP are RS. 500 also charge for the subscription of the offer.
PTCL Wireless (Wi-Fi) Internet Services
PTCL proudly offers some of the most demanding Wi-Fi services across the country, you can take advantage of these portable Wi-Fi devices, these devices are easy to carry and have good connectivity capacity. You can use these fast 3G, 4G devices as a portable Wi-Fi net on your laptop, PC, or even through simply active the Wi-Fi and allowing access on your all mobile devices. Some of the most demanding PTCL Wi-Fi prepaid and post-paid portable devices are listed below.
EVO 3.1 Mbps USB
3G EVO Wi-Fi Cloud
3G EVO Nitro Cloud
3G EVO Wingle
If you found this article related to PTCL Broadband (DSL) Internet Packages helpful then must share your reviews and suggestions with us.