Punjab has the richest culture and tradition around the world. The culture of Punjab is very different and unique from other cultures and traditions. Punjabi culture and traditions are very famous around the world and most other culture follows Punjabi tradition like Punjabi dressing, styling, wedding customs and also sometimes Punjabi language.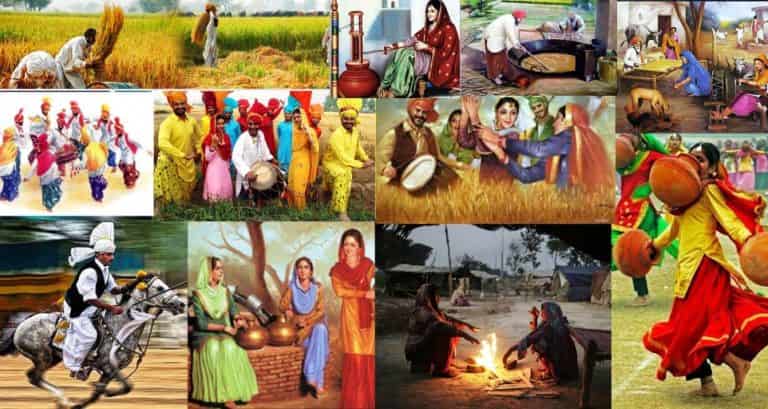 The culture of Punjab in the Middle East was diverse on individual caste, community, religion, and village. Punjabi culture was based on worship, religious beliefs, and cast which is to identify the difference between Hindus and Muslims. The strongest emerging cultures were Jutt, Gondal, and Gujjar. Nowadays, these three casts are the strongest in Punjabi culture and tradition. Let's more deeply talk about Punjabi culture and tradition.
Dressing
The traditional dress of Punjab is kurta and pajama for men and salwar kameez for women. In many beautiful villages of Punjab, males use to wear a turban on their heads, in Punjabi turban is known as "Pagari". People of Punjab love to wear colourful "Dhoti" or "Lacha", Dhoti is the most common and oldest trendy dress for males even women also wear it in different areas. The best thing about Dhoti is that it's very comfortable like we feel uncomfortable in paint but when we talk about Lacha it's really open you can say that there is no issue of air in it.
If we talking about Dhoti, it is possible that we not discuss Kurta. People of Punjab use to wear Kurta with Dhoti, it looks such an attractive costume. Male in Punjab are very serious about their dressing they wear stunning Dhoti with Kurta and as footwear, they always try to choose a very colourful "Khusa". This Punjabi custome is used by the majority of old men, but now these days as young generations loves to explore the custom and tradition, they also wear this traditional dress.
In urban areas men also wear salwar, kameez, most of the young boys also wear paint shirts too in urban areas. A large number of women wear "Gharara" as paint much other use "Choridar Pajama" and different types of traditional "Shalwar". In girls' cultural dress they use to wear high embroidery worked kameez as shirts. This trendy dress is complete with "paranda" in hairs and "Dupatta" on the head, while "Khusa" is footwear.
People In India, men wear kurta and pajama with pagri as a cap, and Indian women wear beautiful ghagra with colourful dupatta on their heads. The Patiala salwar is also very popular in Punjab areas and now it is known as Punjabi dress.
Language
How it is possible if we talk about the culture and tradition of any state or province, and we did not talk about the language of that area people. Punjabi is the first language that is spoken all over Punjab, this language is also an understandable language in the majority of areas of Pakistan. Urdu is also spoken in Punjab. Punjabi language in different areas little vary than other mentioned below.
Pahari
Saraiki
Pothowari
Majhi
Jhangvi
Hindko
Shahpuri
Traditional Punjabi Weddings
Traditional Punjabi weddings are very famous around the world. The wedding ceremonies are very different and unique which reflects true Punjabi culture and tradition. At these weddings, you would see a lot of ceremonies, traditions, and events like mehndi, Mayon, dholak, musical night, bhangra nights in which they enjoy Punjab's famous dance style Bhangra.
While other religious ceremonies in Muslims, Hindus, Sikhs, Jain, Buddhists, and Christians, can be held in Arabic, Urdu, Punjabi, Sanskrit, Hindi, or Pal by Kazakh, Puran, Churches or priests only enjoys the song, Dancing, food, and other main events.
These weddings have a vast history of customs and beliefs inspired by the Sikh community. In Punjabi's weddings, people arrange dholak nights before the many days of the wedding and makes lots of fun. Traditional tasty Punjabis food also increases the beauty of marriage.
Music
Punjabi music has a wide range of variety and these people love to hear loud and fast music, which includes bhangra music and dholak. Their women arrange dholak nights before marriage ceremonies and it's a part of the wedding. Bhangra is one of the popular and famous music around Punjab and also other cultures. Western musicians used Punjabi music in many ways, and create a beat according to their ceremonies. While in other cultures, musician mixes Punjabi beats with their music beats and create a different sound according to their tradition.
Folk music is very popular around the world and it is the favourite music for most people. People prefer to hear the famous folk singers, now these days Punjabi singers are also well-known in other countries not only in Pakistan and India but also across the globe. Various old traditional instruments increase the popularity of the Punjabis song. Some of the famous old traditional instruments are listed below.
Dhol
Tabla
Chimta
Flute
Sitar
Dholki
Dance
The proper dance tradition started in Punjab and they had different dancing styles. The long history of Punjabi dance tradition, people generally performed at the celebrations, including props, festivals, and weddings. Overall more dancing styles like "Gidha" and "Jhumar" are usually performed by the women, and the high energy "bhangra" is performed by the men on the dhol beat. Some other dance styles are written down here.
Dhamal
Loddi
Kikli
Sammi
Gatka
Dandiya
Singers
The people of Punjab have a keen interest in folk and traditional music, and the notable singers always try to make alive the true sound of cultural and traditional Punjabi music. The most famous Punjabi singers are mentioned below.
Alam Lohar
Abida Parveen
Attaullah Khan Esakhelvi
Allan Fakeer
Madam Noorjehan
Abrar Ul Haq
Humaira Arshad
Poets
Punjabi Poetry has a different level in the world of poetry. At different times different legendry poets serve the culture of Punjab with their beautiful and deep words of Poetry. Emotional and meaningful Islamic poetry played a great role to build the perfect culture of Punjab. Some of the most famous poet's names are given in the list below.
Baba Bulleh Shah
Mian Muhammad Bakhsh
Sultan Bahu
Fariduddin Ganjshakar
Pir Naseer-uddin-Naseer
Ustad Daman
Waris Shah
Shah Hussain
Castes/Clan
The history of Pakistani families is also very old, numberless families holding their caste or family name yet. In some areas of Punjab it happened that the whole village is filled with a certain caste or family, this shows how people give importance to castes and family backgrounds. Some of the most famous castes or clan names are present here.
Arain
Gujjar
Gondal
Rajput
Jatt
Ansari
Baloch
Basra
Bhatti
Shah
Sandhu
Tarar
Sheikh
Ranjha
Mughal
Kumhar
Festival
Punjab has so many beautiful festivals and functions, which are quite entertaining. Eids have been celebrated in all Muslim communities but there are few of the other custom-based festivals which have specifically been celebrated in all Punjab Pakistan. These festivals include "Mela Chirghan", the festival of "Baha-Ud-Din Zakariya's death" "Data Ganj Bakhsh Urs" "Sakhi Sarwar Urs" "Sakhi Ghulam Qadir Ur", National Horse, and Cattle Show, and "Basant".
Related Articles:
Types Of Culture Survived In Pakistan
Literature
Punjabi literature is very famous around the world, there are three major Punjabi romantic epic poems based on folk love stories like "Heer Ranjha" by the poet of Waris Shah, "Sohni Mahiwal" and "Mirza Sahiba" by the poet late "Alam Lohar". The many Punjabi stories translated into different languages by different writers and these stories have been admired all over the world.
Food
Well, Punjab is especially known for its kind-hearted people and its food which has no comparison. Punjabi's make tasty, spicy, and mouthwatering food. The visitors came from the far areas to enjoy the Punjabi foods especially.
The most famous foods of Punjab are Sarson ka saag, Makai Roti, Shahi Paneer, Dal makhani, Rajma, Chole, Aloo, Chicken Karahi, Chicken Tandoori, Naan, Phulka, Puri, Papad, Lassi, Kheer, Rabri. There are a lot of famous food points in Punjab which have been known all over Pakistan. It is also said that Punjabi loves to eat and they also love to have guests.