Before going into the details of Sindh culture you should know the basic information about this Province. However, Sindh is the second largest province of Pakistan and has a vast history of different cultures and traditions. Karachi is the city of Sindh and is known as the biggest city of Pakistan having the largest industries and working as the backbone for Pakistan. Sindhi people practice different languages and they have a quite unique talking style. The Sindhi language is the combination of Sanskrit, Arabic, and Persian and many of the famous novels and books have been written in the Sindhi language.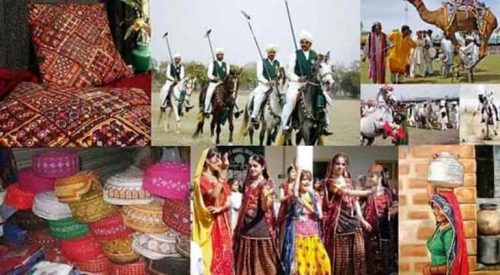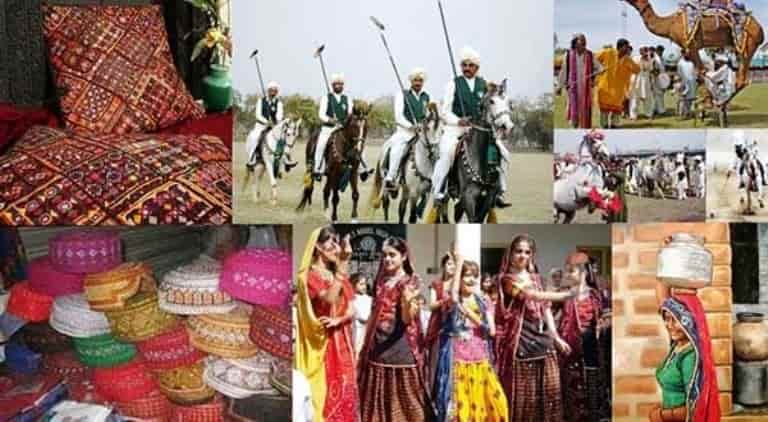 Culture of Sindh
Well, when we talk about Sindhi culture the first thing that clicks to our mind is its famous Sindhi cap and Ajrak which itself represents the culture of Sindh. Ajrak is a shawl with a specific pattern combined with the colours maroon, black, and white. Sindhi considers Ajrak shawl as their tradition and presents to guests on different occasions to represent their culture. While the famous Sindhi Topi has a cut at the front and embroidery along with small mirrors.
Meanwhile, Sindh is famous for various things like Sindh's Lifestyle, Music, Festivals, Heritage, Cuisine, and Sports. In Sindh, they celebrate various events in which they often celebrate the Urs of Hazrat Sachal Sarmast, Hazrat Lal Shahbaz Qalandar, Hazrat Abdullah Shah Ghazi, and Shah Abdul Latif Bhitai at the huge level and people came from far areas to participate in the Urs events. They also celebrate the Sindhi Topi and Ajrak day on the first Sunday of every December in which they all wear Ajrak and Sindhi Topi and recall the oldest traditions and history of these.
In the rural areas of Sindh, their women used to wear embroidered shirts embellished with mirrors, and this embroidery is specifically known as the Sindhi embroidery which is handmade and it's also been sold in different areas of Pakistan. Sindhi style embroidery, patchwork, beautiful patterns, and colours of Dupattas are famous across the country. Moreover, the quilts and bedsheets of Sindh are also famous for their embroidery and applique which also have been sold out across the world.
Well, while talking about the culture of Sindh we can't ignore the heavy silver jewellery the Sindhi women used to wear and they are known all over the world for this tradition. Aaj or Ivory bangles are still being used in the far rural areas of Sindh and their Kundan jewellery which has specific and different designs are also famous and demanding among people. Their shoes which they call Khussa is also quite different from others as it has a big colourful flower o the top, while in men Sindhi Chappal is quite famous and has also been used in different cities too under Shalwar Qameez.
Sindh has the vast and most inspiring traditions and cultures which also have been followed in different cities and they are quite prominent too. Sindhi famous dishes are also being admired and made across the country. In which Sindhi Biryani is the most famous item which you would see almost in every city of Pakistan and even outside the country as well. Spicy fish curry with soup along with boiled rice is the most favourite dish of Sindhis. Despite these two main dishes, there are a lot more famous Sindhi dishes like Seyal Bhaji, Seyal Dab-Roti and Sindhi soup are the famous dishes of Sindh too.
Also Read:
Types Of Culture Survived In Pakistan
Folk music of Sindh cant is neglected while talking about the culture as the Sindhi folk music is a significant part of its culture. Not only this but Sindh also had so many artists and poets which were outstanding and left a prominent mark in the society and made history. The famous musicians of Sindh are Abida Parveen, Humera Channa, Allan Faqir, and Shaman Ali Meerali and in the field of poetry Talib-ul-Mola, Shah Abdul Latif Bhitai, Sachal Sarmast, Anwar Pirzada, Shaikh Ayaz, Qadir Bux Bedil, Imdad Hussaini, and Elsa Kazi have made a prominent name.
However, Sindh also has a 5000 years old history of handicrafts in which blue pottery is also included. Potters made pots and different handmade items which they paint with the specific Sindhi patterns with hands and they were sold out across the country.
You can see the Sindhi culture and tradition in every person relates to that region as it revolves inside them like blood in vessels.