More than 160 years ago in 1853, the bank was founded as Charted Bank exactly in the year 1853. At that time as a Chartered Bank, it performs its operations in India, China, and Australia. Later on the founder, James Wilson bank was founded as Standard Chartered, this was the year 1969 when it's officially known as the Standard Chartered Bank private limited.
It was listed as a private Finance Bank under the "London Stock Exchange", and gained the trust of people and institutes. The firm was secondly listed under the Hong Kong Stock Exchange laws and then also registered under the ordinance of the National Stock Exchange of India, also listed in OTC Markets Group Pink. This Banking system has its headquarters in London, England, and Uk. This international-based finance services corporation is operating more than 1200 public branches, over more than 70 countries facilitating by its services. It was dealing with a corporate, consumer,  institutional, and also in treasury services.
Why Called SCB?
Do you know why called Standard Chartered Bank, then ok 😀 ohhh if you don't know then I'm gonna tell you. That name is actually the mixer of the two banks. In 1969 the two respected banks were merged, Charted Bank of India, China, Australia, and Standard Bank of British South Africa, then the name "Standard Chartered Bank" comes into existence.
Chartered Bank
In 1853 the Chartered Bank comes into existence when "Queen Victoria" gives a suitable authority and gives huge granted charge to "James Wilson" who is a Scotsman at that time. Charted Bank makes its first branches in below cities and country.
Mumbai (Bombay) India
Kolkata (Calcutta) India
Shanghai China in 1858
Singapore in 1859
In the year 1862 Chartered issued its first-ever "Banknote" and use the medium as Hong Kong Dollar because at that time hong dollar is covering china and other regions as its official currency that time in these states.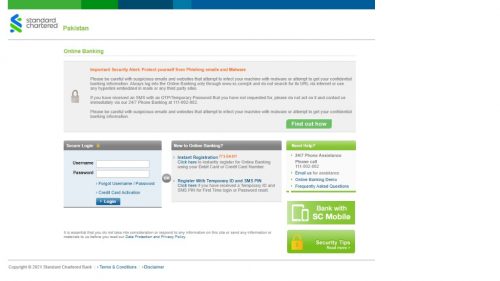 Standard Bank
In the Cape Province of South Africa, Standard Bank was founded in 1862. When gold was discovered in 1885 that time Standard Bank already set a stage due to its consistency and public dealing. It also extended its work from north to covering areas of Johannesburg. They get success leaps and bounds and set their goal direct to London, and at that time Standard Bank's passed half of the gold, which was the true example of success. Within a short time, it's called the Standard Bank of Africa Limited.
Standard Chartered Bank Pakistan
Standard Chartered holds "Union Bank" in the year of 2006 and became the 6th largest Bank of Pakistan, working on Islamic Banking system. In a short time, it gets a good position in the Banking system of Pakistan. The first branch was established in Karachi the city of lights. Currently, SCB Pakistan is limited to running more than 94 branches all over Pakistan, with more than 9000 employees.
Standard Chartered Bank (SCB) Online Banking
Today as everything is online, people try to find an easy way of their daily routine such as now these days, people buy food online, people can even book a car or grab online for going anywhere, so in this era where the use of even basic things is online, so banking is a major sector, with the passage of time people need more security about monitoring matters, so the need of the hour is that everyone moving to online banking. Online banking is an easy, secure, reliable, and fast way of payment.
Online Login/Registration
SCB provides the best online banking system for its customers, the customers just need to register first then log in with their account details on SCB bank's official online platforms. For the clients in Pakistan, they must have to register themselves with their details on the SCB bank Pakistan website. All you need to just visit SCB official website in Pakistan and get secure login there for all online banking operations.
Standard Chartered Online Banking Features
Account Information
With the reliable and secure SCB bank, online banking system every registered client has full access to their account online, through their website or app account information and account service portions.
A customer or client can control all features of his/her account through online access, they offer to have a complete record for its customer's account transactional history for one year. They also have access to their credit card for at least two recent transactions and statements, from their profiles account.
Funds Transfer
With the help of the SCB online profiles account, a customer could avail of many of the services and features offered by the banks. As it is the time of the internet world, they fulfil all the necessities of the era of technology, people are using their services just at their fingertips, by simply a single click people able to transfer their funds through online banking, within the secure and protected panel of SCB. To transfer funds within Pakistan from one branch to another, customers need to re-register their selves before transferring funds online. The maximum limit of transferring the amount online is 500, 000.
Credit Card Services
Credit Card services are often offered by at least every reliable bank to its honourable customers. The customers with goodwill just offered to take the opportunity to get a credit card from their account. A credit card actually is a piece of plastic card, through the credit card you are able to purchase things on credit when you have out of cash, the banks only provide this facility to their solid account holders with long statement history. All credit card holders would be able to check their two recent transaction histories online. You can avail all online features of cards just by a simple click on the card services which are shown under the card information section, by selecting the statement option. Credit card statements are divided into the below categories.
Current Transactions
Last Statement
Prior Statement
Reasons to Select SCB
SCB always offered secure and reliable easy services to their clients, from years of best services it was known as a good online service provider in Pakistan. These are some of the solid reasons that SCB is one of the best Internet Banking systems across the country. There are some of the specific reasons are mentioned below why SCB Internet banking is the best?
Also Read: Faysal Bank Internet Banking
It is Free and easy to apply.
Quick and easy access to current working accounts and information.
Just a few minutes to take the faster and quick banking transaction.
You can control your online accounts 24 hours and whole the year.
It's not local access, you can connect to the worldwide access of your accounts.
For access need a browser, no need to take any special software.
For more, find a large range of various services.
Security Measures
As it is a matter of money transactions, security is the first priority for every client. So here we try to share the basic and important security measures.
If ever you noticed that ID or password has been leaked or someone is using it, immediately change your password.
Always choose a strong password containing numbers, letters and special characters.
Whenever you were using your account by login, then just keep in mind to close your browser and log out your account when you were going to leave it.
For more secure try to clear your browser history and cache.
Try always to use the best reliable and latest version of the recommended browser.
Direct call phone banking of us, if you feel any kind of suspicious access or transaction to your online account.